A Cell Tower and a Constable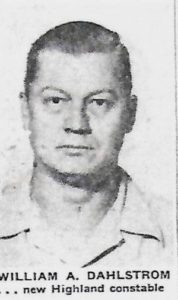 On occasion, the Historical Society is to review a proposed site for its historical impact as part of the Section 106 review process.
Such a request was recently made for a telecommunications tower by Dynamic Environmental Associates, Inc.
This tower is proposed to be located near the Universal Self Storage of Highland, at 28099 Greenspot Rd.
A property search revealed an old parcel number. Searching the owner history under this older parcel number, a familiar name popped up –William A. Dahlstrom.
Just to double check, a search of voter registration records showed that William Dahlstrom lived on E. 3rd St. (now Greenspot Rd.) in 1948 and 1956. Also, His obituary confirms that he lived at 28099 3rd St. in Highland.
William August Dahlstrom, nicknamed "Swede" in Highland because of his Swedish decent, was born in St. Paul Minnesota March 4, 1910 and spent his early adulthood there.
At age 20 he was working for a steam railway as a "hooker." This must be the job that hooks the cars together.
William was married to Mildred Charlotte Peterson in the early 1930's, a specific date was not found. They had four children: Jeanette Marie, 1945; William A. , Jr., 1938; Larry E., 1944, and Bette Anne, born in1947 in San Bernardino.
The family lived for a time in Chicago, where he had a position with the city police force.
Voter Registration records place the family in the area in 1948. Their actual arrival was not discovered.
"Swede" Dahlstrom became active in the community. He was employed by the San Bernardino Sheriff's Department, as a special bond deputy, and was a member of the Redlands Elks Lodge No, 583, and the3 Highland Lions Club. He also worked for the Gold Buckle packing house and in their pest control work. He was once a director of the Highland Chamber of Commerce, for many years he headed the Highland Are Outdoor Christmas Decorating Contest.
In 1956, Highland's current Constable, Dewey Hardyman suffered a fatal heart attack during his second term.
In June 1956, Dahlstrom was appointed Constable for Highland. There was a review process of possible candidates before the appointment. The list was narrowed down to three, with the appointment going to Dahlstrom.
In 1958, the Highland Service District provided a police car with a two-way radio to increase the efficiency of its officer.
On March 6, 1970, the newspapers reported that Constable Dahlstrom would be retiring March 31st. Ill health led to his decision to retire with two and one- half years left in his term. He had been hospitalized for five weeks in 1959-1960 after surgery relating to pneumonia.
And so, a new telecommunications tower may soon overlook the spot when one of Highland's well-known Constables used to live and where his widow m Mildred, continued to live for many years. Mildred died of heart failure in 2008, at the age of 99